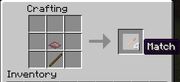 Matches are a substite for  flint and steel. The only difference between the match and flint and steel is that the match has only one use per match.
A match is crafted by putting a stick at the bottom and phosphorus at the top the result is 4 matches.
Metallurgy pack
Edit
To make the Match you need the utility ores metallurgy pack.