Mint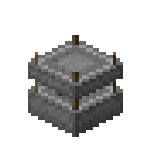 Mints are used to make coins. The coins created by the mints can be used as a form of currency in exchanging items with villagers, like the Emerald.

Coins are produced from bars of precious metals, with Brass lasting for one coin, Silver lasting for four, Gold for nine, Electrum for thirteen, and Platinum for an amazing twenty-seven presses.
It requires a redstone pulse to press, and each press produces one coin. Clock circuits are recommended for pressing Electrum or Platinum.
When pressing large quantities of bars into coins, a Mint Storage can be placed touching the Mint to allow the Mint to auto-load bars from the Mint Storage when it's empty and a current is applied to it.
Ad blocker interference detected!
Wikia is a free-to-use site that makes money from advertising. We have a modified experience for viewers using ad blockers

Wikia is not accessible if you've made further modifications. Remove the custom ad blocker rule(s) and the page will load as expected.