Oureclase (in 2.4 and lower)
Type
Ore
Stackable?
Yes (64)
Data Values (Vein)
ID: 919
Metadata: 3
Data Values (Brick)
ID: 920
Metadata: 3
Durability
750
Mineable Level:
3
Mining Level
4
Enchantability
18
Experience Rewarded
3
Oureclase (as of Metallurgy 3)
Type
Ore
Stackable?
Yes (64)
Data Values (Vein)
ID: 919
Metadata: 3
Data Values (Brick)
ID: 920
Metadata: 3
Durability
750
Mineable Level:
3
Mining Level
4
Enchantability
18
Experience Rewarded
3
Oureclase
is an
Ore
in the
Fantasy Metals
set. Oureclase is a semi-rare material exhibiting similar strength and density to diamond, but less durability. It is significantly less common than
Prometheum
and
Deep Iron
.
As of Metallurgy 3 Alpha, Oureclase changed its colourway to the ones from Aredrite, which was removed.
Oureclase has no known Alloys at this time.
Oureclase can be formed into the Tier 4 abstractor, as well as being able to form shears and buckets, albeit at a rather extreme cost.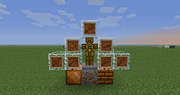 Ad blocker interference detected!
Wikia is a free-to-use site that makes money from advertising. We have a modified experience for viewers using ad blockers

Wikia is not accessible if you've made further modifications. Remove the custom ad blocker rule(s) and the page will load as expected.