Prometheum
Metal Set
Fantasy Metals
Type
Ore
Data Values (Vein)
ID: 919
Metadata: 0
Data Values (Brick)
ID: 920
Metadata: 0
Mineable Level:
2
Experience Rewarded
1
Tool Stats
Durability
200
Mining Level
2
Enchantability
16
Spawn info
Veins per Chunk
6
Ore per Vein
10

Prometheum is the most common Ore in the Fantasy Metals set. Being the lowest tier ore in the set, Prometheum mainly acts as an in-between Stone and Iron, being slightly less durable, but more enchantable than iron. Prometheum can be crafted into weapons, tools, armour and Abstractors. Prometheum dust can also act as fuel for Abstractors.
| Result | Operation |
| --- | --- |
| Prometheum Dust | |
Result
Operation
Prometheum Ingot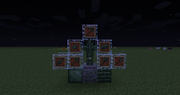 Ad blocker interference detected!
Wikia is a free-to-use site that makes money from advertising. We have a modified experience for viewers using ad blockers

Wikia is not accessible if you've made further modifications. Remove the custom ad blocker rule(s) and the page will load as expected.