Tartarite
Metal Set
Fantasy Metals
Type
Alloy
Data Values (Brick)
ID: 920
Metadata: 4
Experience Rewarded
13
Tool Stats
Durability
3000
Mining Level
8
Enchantability
25

Tartarite is an Alloy in Fantasy Metals. It can be made by combining Adamantine and Atlarus. It is the strongest alloy in the mod, with a tool durability almost two times greater than diamond.
Sword Effect
Edit
them immensely, as well as having almost twice the damage of a diamond sword.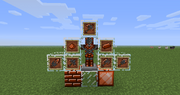 Ad blocker interference detected!
Wikia is a free-to-use site that makes money from advertising. We have a modified experience for viewers using ad blockers

Wikia is not accessible if you've made further modifications. Remove the custom ad blocker rule(s) and the page will load as expected.